Best Google Adwords Agency: PPC Services
Pay Per Click (PPC) Service is one of the premier Internet Marketing techniques that lets you place on the top of sponsored listings, turns your marketing dollars into highly targeted customers. With PPC, you can only pay when a user clicks on your ad and not for the views. Our experts will get you ranked on the top
• To drive quality traffic
• To ensure that visitors converted to loyal customers and
• Helps in maximizing the return on ad spend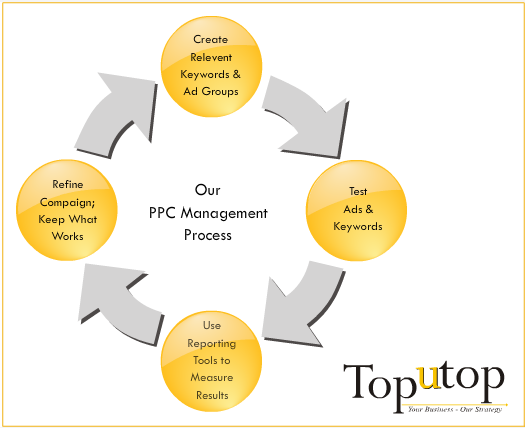 We will ensure quality traffic to your website by understanding the objective of the client's business, choosing the right keywords that target your business, effective keyword-specific ad copies that directly shoots the benefits of the products/services, keyword-relevant landing pages, proper segregation of the campaign setup, proper tracking of leads, Analytics integration for more detailed customer behavior and geography and many more.
Toputop has expertise in major search engines like Google, Yahoo, Bing, Ask, and Shopping engines like Shopping.com, Shopzilla.com, Content & Ad Networks like Adon, Bidvertiser, AdBrite, Zango.
Depending on your budget, business requirements and goals, let our experts suggest you the potential platforms to advertise on in attaining the right customers with an optimal amount of spend and generate more sales and revenues online.
Nowadays, managing the PPC campaigns has become extremely complicated and overwhelming with the upcoming amateur marketers. Selecting the right PPC management expert (vendor) is key to your business success. Most of the automated tools and many companies bid for the position, and this will make you pay more unnecessarily. We at Toputop will take care of your campaigns 24/7 to avoid bid malpractices and click fraud.
Toputop offers you unparalleled customer service, round the clock campaign monitoring, customized reporting as per your needs, click fraud detection, analytic data analysis, and interpretation to identify the areas to improve, new ways to promote, and many more value-added services.
Whether you are seeking complete campaign setup, optimization, and management or merely require some help in enhancing your current campaign to make it better, TopuTop offers you with the customized solutions as per your needs to gain visibility, attract more visitors, drive them to sales and in turn maximize your ROI.
Paid Inclusion
Paid Inclusion (PI) is now referred to as the "Search Submit Express." Paid Inclusion consists of submitting a 'feed' of your site's pages that you control directly into a search engine's index. Paid inclusion lets Web site owners submit information about their pages to search engines. They're guaranteed inclusion in the search engine's index but aren't given any assurances regarding how their pages will be ranked.
How does it work?
Our proprietary technology manages both PI feeds and pays for placement campaigns within a single interface.
• We capture your site content. Paid Inclusion can be done either structured files/databases provided by the marketer, or we can do a URL crawl. You decide 'when and what' pages become available in the index.
• We convert content into an XML format and feed it directly to the search engine indexes.
• We ensure that your content is editorially compliant, indexed, and relevant based on the unique requirements of a given engine. Paid Inclusion helps generate high rankings.
• We continually optimize the feed titles & descriptions as well as landing pages. We provide optimization based on PI relevance or custom rules that you define.
• You have access to all types of robust reporting.
Benefits for the paid inclusion:
• Your editorial staff creates and reviews data submitted to the search engine so that the information is up to date and accurately reflects your latest product offerings.
• Listings appear in the main body of search results (also called algorithmic results) as opposed to Paid or Sponsored Listings.
• Allows a marketer's in-depth content or pages that are hard to index to be exposed in search listings.
• PI listings are relevancy based as opposed to paying driven. So, the most relevant pages relative to the user's search get the highest rank.
Paid Inclusion In Yahoo!
Yahoo's new paid inclusion philosophy eliminates the free ride for clicks of past per-URL inclusion programs. Yahoo created a similar pricing model for XML and per-URL inclusion programs. A lack of per-click fees for traffic meant low incentive for Webmasters or Web marketers to keep page content relevant for earlier per-URL paid inclusion programs at Yahoo divisions (Inktomi, AltaVista, and FAST).
Some per-URL inclusion resellers even let marketers change URLs within a domain on a single annual inclusion. The ability to swap URLs within an area may seem trivial, but some marketers used it as a method to tune pages for high positions, regardless of relevance. They then turned off paid inclusion. Usually, search engine spiders found the optimized page and included it anyway. Yahoo probably found this abuse of the inclusion system resulted in suboptimal search experiences. A preponderance of affiliate and other poor content pages proliferated in its index.
Now, all commercial paid inclusion clicks generated through the Yahoo/Overture Site Match program will be charged at CPC. No one wants to pay for irrelevant traffic that won't convert.
Features of yahoo paid inclusion:
• Relevance tuning
• Tuning for presentation/display
• Freshness
• Reporting
• Find out how to improve your web site
Activation time for the URL:
Your web pages will typically appear in search results within four days of submission.
Google AdWords
Kick start your Google ads Campaigns to generate leads
Google Ads Marketing is the most competent way to reach active users on the Google search engine. It's time to provide a new dimension to your business by making a place for your business in the Google Search results through Google Ads. All-new interactive platforms from Google Ads is offering a range of options to its customers for promoting their brand in all content forms on Google and its search partners.
Explore Search, Display, video, app and Shopping Ads
The Google Ads Marketing tool is a complete marketing solution with around 300 million unique visitors making approximately 4.5 billion transactions. The journey of Google Ad words is an inspirational story that started with a mere 350 advertisers in the year 2000. The ambitious project witnessed an exponential growth in the next 19 years and captured 30% of the global revenue. The above staggering statistics are proving that Google is the most powerful search engine and the right place to invest and expect maximum ROI.
Based on the industry, campaign goals and the target audience will influence the selection of the category in the Google Ads tool. Google ads are one of the most trusted platforms for lead generation. Each segment in the Google Ads comes with a unique goal and approach style.
Search Ads, Display Ads, Video Ads, App Installation Ads, and Shopping Ads form the core structure of the Google Ads. Search Ads are widely implemented by the companies to improve their sales and lead generation, whereas Display Ads and Video Ads proved to be the right platforms for brand awareness campaigns. App Installations will enhance the number of downloads of mobile applications, and at the same time, it will increase the engagement of users with different strategies. The shopping Ads are a boon to the Ecommerce portals, where the product can directly advertise to the user through different promotional channels.
Choose the right segment in Google Ads to improve ROI
Setting up Google Ads might be easy, but designing successful campaigns require expertise and experience on the market sentiment. TopuTop is having tremendous experience in handling huge budgets on Google Ads for various companies in different business sectors. So, it will be fruitful for your organization to join the hands with TopUTop and build successful campaigns to conquer Google's search engine space.
Do you need Marketing Ideas and Consulting? Want to work with us? Have questions? Please contact us.
Please email us at [email protected] or call us at +919848321284.