Facebook Marketing
Gone were the days when marketing was a skill you could learn it only in an esteemed college or university. Facebook Marketing is the new millennium where trending Facebook Marketing strategies work, and it sure has put many old school methods to rest.
Technology has replaced in seconds what many that deemed as scholars or scientists took years to assemble. With the advent of social networking, social marketing was the obvious next step. But who would've thought that Marketing would one day be done right from the comfort of our own home?
The use of technology and media has opened doors for many whose dreams of being an entrepreneur seemed impossible. With all these avenues in front of us, there was a name that started ringing everybody's doorbells, and that name was FACEBOOK.
With over half a billion users, it has revolutionized the term Marketing, thus creating a whole new paradigm called Facebook Marketing. So, how does one achieve this? Here are a few tips to start you over.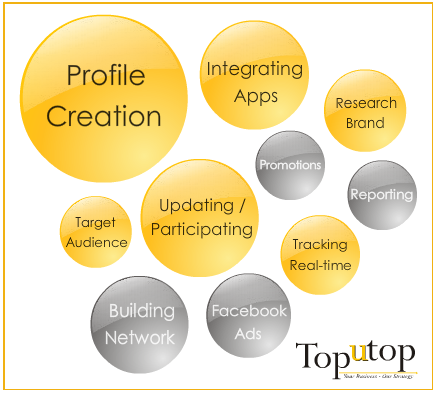 Is it that easy to penetrate your brand on Facebook?
Well, the answer would be "yes," if you have a perfect strategy to catch the attention of the audience. As per the E-marketer analysis, close to 50% of the small businesses across the USA rely on Facebook marketing to generate their business.
It is an encouraging sign, but how far these businesses can leverage the social platform to improve their ROI. On the same note, when speaking about the output, all the business sectors are not achieving the success rate on the Facebook platform.
Facebook offers power-packed features for social media marketers to promote the brand on this platform. It's not just about placing a brand on Facebook; it is all about making your brand connected with the emotions of the audience.
Facebook Marketing and Advertising works with a blend of creative thoughts and an exceptional ability to power the idea with a brand value to reach the target audience precisely. In words, these sentences look very simple, but in practice, it requires tremendous experience and potential.
How to achieve success in Facebook marketing?
Don't worry about your success on the Facebook platform, rely on TopUTop to avail an inch-perfect strategy for your business on Facebook. Our Facebook marketers are experts in devising viral concepts and promoting them across the platform in different ways.
Creating a Profile:
Having a profile establishes your identity on this international network, which is the first step. Since a profile consists of a wall, a profile picture, and a chance to add friends, photos, or videos, each has dealt with exclusively.
Profile Picture:
As someone said, "A picture is worth a thousand words," your profile pic should be one that is above the rest. It should be attractive and at the same time, should convey everything about your business.
Wall:
The Wall is a place where you voice yourself. You can post messages on your wall every day and also comment on your friends or customers' activities, thus letting them know that you are genuinely interested in them and not only for business.
Add Friends:
Keep adding friends every day to let them know your presence and that you are here to grow and expand in as many ways as possible, but don't overdo it.
Add Photos/Videos:
Adding a photo or video content is essential to your business development as it would be posted on everyone's news feed and wouldn't miss their eye.
Creating Groups, Fan Pages, and Events:
Creating Groups lets you stay in touch with everyone in your group, and an update can send at once instead of doing it multiple times for each of your friends/customers.
Fan pages allow you to create a public presence on Facebook as these are visible to everyone on the internet.
Events allow you to publicly meet your customers as they can participate in product launches, anniversary celebrations, etc. thereby enriching customer experience and increasing your fan base.
Now that you've established yourself on Facebook, there are many ways to further the process of marketing, a few of which have been listed below.
Let your page be filled with lots of fun and personality to enable you to attract more customers.
Holding contests and opinion polls generate a lot of network traffic to your website and also to your Facebook page.
Actively participate and support other Facebook pages related to your industry, and that will add credibility to your business and gives space for mutual exchange as well.
Last but not least, nothing can replace a touch of gratitude to all your customers, thanking them for their extended support throughout your business journey.
Facebook Marketing has gained buzz around Social Networking and becomes a must for a brand to promote their products or services online.
Facebook is now one of the viral social networking with more active users.
The main advantage is we can target a particular location using Facebook advertising options. By using Facebook, advertisers can have an opportunity to Precise Targeting by age, location gender with multiple options, and also advertisers can optimize their ads using a real-time monitoring system.
By using Facebook Social Ads / Facebook advertising, advertisers can reach over 200 Million active Facebook users.
Facebook Marketing is a must for the brand because it has
• Sponsored Groups
• Mini-Feed
• Facebook Ads
• Fastest growing demographics
• Facebook Events
• Facebook Fan pages
• Facebook Page insights
• Profile Application Integration
Facebook Marketing is here to stay. With the increasing number of new users coming in, this may become a one-stop solution for business entrepreneurs not just now but for a few more years to come.
Facebook Marketing for Business
For marketing your business successfully on Facebook, you need to understand Facebook's unique opportunities and features. The knowledge of these aspects of Facebook helps you to make out how it differs from other media. Just as you wouldn't run a radio advertisement on television, you shouldn't market on Facebook the way you would sell in a magazine or on your website. Hence, I have enumerated specific tips to let you successfully market your business using Facebook over The Internet.
Don't Use Facebook for Hard sell: Generally, people join Facebook to share resources such as text, video, photo with their friends and relatives. They also use the chat messenger on the Facebook platform to chat with their friends. People do this in an informal and relax manner. Hence, you should enter the community first and become friends to further your business. So, hard-sell tactics will not work in this environment.
Have a clear goal and strategy: While using Facebook, you should have a purpose and plan to achieve that goal. It enables you to have the correct direction for your marketing and grade its progress on this platform.
Create the human voice for business: The members of this community would like to talk to the people, not to impersonal companies. Hence, you need to make a human voice for your business to develop a rapport with the people.
Post regularly: Like any social media site, Facebook also is built around frequent and regular posts. According to one estimate, at least 50% of members of this platform check their pages daily. Hence, they need to see you paste new material every day.
Encourage comments and give quick reply: After becoming informal, you should encourage the people to post comments on your page. Also, you should post the answers as soon as possible to keep the audience on your page engaged.
Use pictures and videos: The pictures and videos improve the appeal of your Facebook page. Hence, use these resources to keep your friends and other audiences in good humor and engaged.
Nurture your relationships: Take your own time to develop relationships with your friends and customers. Keep them in good humor by providing them with regular and useful content. Also, try to reward them for their loyalty.
Promote Facebook page: Provide your Facebook page link on your letterhead, business card, and website to make it reach as many people as possible to get more customers.
Use Facebook Insights to learn more about customers: Facebook Insights can tell you more about the people who choose to like your page. Once you know your Facebook friends' characteristics, you can tailor your posts and offers to meet their needs and interests.
Facebook Marketing Agency
Facebook is the most engaging social media platform that many marketers have already depend upon. It is a marketer and user-friendly platform where the marketer can attract the people online with the different types of posts and video content.
The one to one customer interaction is also possible and easy on the Facebook platform. Many brands are already got succeeded with Facebook advertising and met success leads to their companies.
Facebook for Business
Facebook is beneficial for the marketers as well as people are kind for the consumers to meet the best offers that a marketer can provide them with the latest updates of their products.
The marketers can create a business Facebook profile with all the best information about the company or brand.
Posting the regular updates, behind the scenes along with the content and content related to services. Facebook Marketing makes the audience interested in the brands and the posts.
With new Facebook, premium video ads made the marketers more influential on the Facebook platform as Facebook provided the marketers with the ads in which they can be auto-played on the newsfeed of the Facebook audience. If they are interested, they can click on it to watch the video ad with sound.
So it is up to the marketers to attract the consumers online with they create short autoplay video ads on Facebook.
The companies like TopuTop can provide Facebook marketing services; they can manage the Facebook profile on your behalf and posts the regular updates as well as creates the best videos and supports you to reach your best with social media marketing on the Facebook platform.
Do you need Marketing Ideas and Consulting? Want to work with us? Have questions? Please contact us.
Please email us at [email protected] or call us at +919848321284.