iPhone App Marketing
There are about Lakhs of Apple iOS Apps in the App Store and the number counting, now being hosted on Apple's AppStore. But only a few numbers of apps are promising, and the lots of innovative concepts are negligible in these countless apps. Our iPhone App Marketing strategy drives huge results.
You have developed it with a lot of as aspirations, and you must create a marketing plan to achieve a good number of downloads and sales.
You have developed an innovative iPhone app, but you need to understand the target market, and you need to know how your app can be popular among others.
We conduct a thorough analysis of your ad campaign to find its performance. iPhone App Marketing helps you to take the most advanced strategies to launch a successful campaign that returns more conversions.
Toputop will help you to increase the visibility of your app by recognizing your App's exceptional Value, and we will spread the message across.
iPad Application Marketing
End up your wondering to market your iPad Apps!
iPhone and iPad applications are now crowding in the marketplace. A massive number of developers are striving to make money out of it. Lack of marketing background affects profits. It is truly a difficult task to get your apps identified among the incredible competition. iPhone Application Development is certainly a technical task, but marketing the application is a non-technical issue where the developers need to have a helping hand. A well-structured marketing plan matters for its reach to the customers. An expertise help for the developers to plan launch and market their software can be of great use to get benefited from iPad App Marketing.
The solid marketing principles and specific best practices for effective, high-value iPad App marketing strategies fit for the business. The developers have to implement proven marketing principles throughout the entire product lifecycle, from planning through delivery, and far beyond to reach the target. So knowledge of your niche domain will help you to compete with the market.
iPad App Marketing Process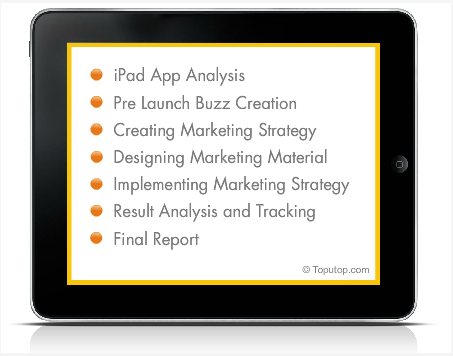 The universal application will be identified by many seekers. iPhone App Marketing is something that the biggest and most used application. If yours is the resource for certain needs in your niche, that becomes the most downloaded application, with the most positive reviews. The usability must be in such a way that it should go viral and spread quickly to the masses.
Unique application, which only can solve the problem in a way that no other can do, will be identified quickly among the others. If yours is a unique application to meet the requirement of the people, and with no comparison in the market, then it will be the leading apps in the market. A deep insight into the design of the application is the crucial criterion to be unique.
We conduct a thorough analysis of your iPhone app marketing ad campaign to find its performance. iPhone App Marketing helps you to take the most advanced strategies to launch a successful campaign that returns more conversions.
A unique application with a reasonable price can't meet your target sales. How exceptional your apps may need advertising. Creative advertisement reaches a responsive audience. Social Media is a perfect platform to sell your apps online. Writing effective press releases and delivery at the right time helps to spread the message. Bloggers are online influencers of any product. So make the best use of blogging on your apps. Use social media sites like my space, Facebook, Twitter, and others to generate online buzz on your apps. In the age of social media, there's just plenty of stuff to do to promote your apps. The dilemma faced by developers of iPhone / iPad Apps would resolve with the help of expert marketing services.
The application that is technically well advanced and feasible price booms you forward. Create your brand to assure that the customers will buy your forthcoming products as well.
Toputop iPhone App Marketing includes
• We understand your Unique Value
• We analyze your target audience.
• We research your competitors.
• We create your marketing message
•We implement the best suitable Marketing Plan for Your App
Do you need Marketing Ideas and Consulting? Want to work with us? Have questions? Please contact us.
Please email us at [email protected] or call us at +919848321284.